Availability:
IN STOCK
Ships to you the next business day.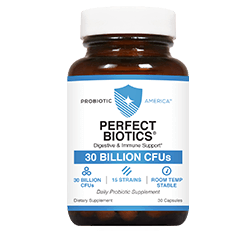 1 Bottle
Retail: $69.95
Your Price: $39.95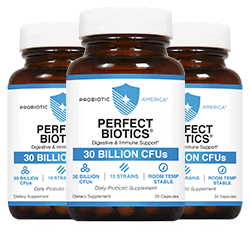 3 Bottles
Retail: $209.85
Your Price: $101.87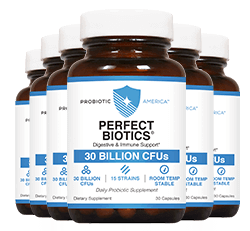 6 Bottles
Retail: $419.70
Your Price: $189.36
Every order from Probiotic America is backed by our 100% money back satisfaction guarantee. Try it for up to 90 days and if you aren't thrilled with the results, just send back the empty bottles for a full refund.
Frequently Asked Questions
Q: Who should use Perfect Biotics
A: Perfect Biotics can be especially beneficial to anyone who suffers from any sort of digestive problem, including gas, bloating, or indigestion. Given the widespread prevalence of artificial sweeteners, processed sugars, and other unnatural ingredients commonly found in the modern American diet, however, Perfect Biotics can be a healthy addition to virtually anyone's diet.
Q: How do Perfect Biotics work?
A: Your digestive tract is home to billions of units of bacteria – some good, and some bad. When the ratio of bad bacteria begins to grow and outnumber the good, you may begin experiencing a wide range of digestive issues – which can lead to bigger health problems. With 30 billion colony-forming units (CFUs), each capsule of Perfect Biotics is like an army of beneficial bacteria, counteracting the bad bacteria and restoring a healthy balance to your gut.
Q: What are the ingredients in Perfect Biotics?
A: Perfect Biotics contains 30 billion CFUs of 15 strains of beneficial bacteria.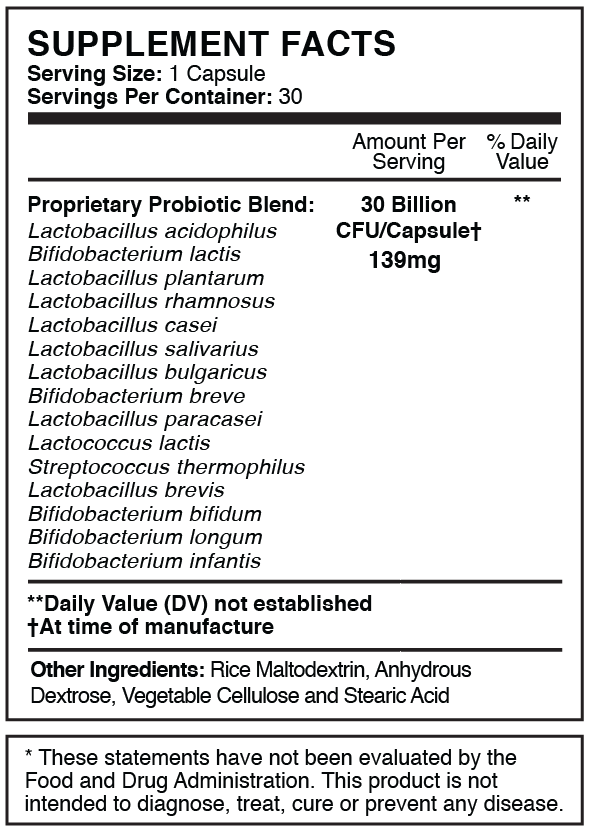 Q: How do I use Perfect Biotics?
A: Just take one capsule per day with water, and preferably with your first meal of the day.
Q: When can I expect results?
A: Everyone will experience the benefits a little differently depending on their current level of digestive health. Some users will experience a dramatic difference within a matter of days. Most users can expect to notice an improvement in their overall health after 3-4 weeks of use.
*Results may vary by individual.
Q: Is my order secure?
A: We use a 100% secure and verified checkout process and have never had any problems with any data being compromised. Your order is 100% safe and secure and we stand behind it.
Q: Is my order guaranteed?
A: Yes! We know what it's like to order a product you've never tried before and for that reason we offer a no questions asked 100% money-back guarantee - that means if you DO NOT get the results, we don't want you to pay. Simply send back the product and we'll refund all your money back - no questions - no hassle.
Q: Which package should I order?
A: Our 3 pack is our most popular order option and that's the one we recommend to start. This package is a 90 day supply and will give you everything you need to experience what a truly effective probiotic can do for your digestive health.
What Our Customers Are Saying:
7 out of 7 people found this review helpful

I need Perfect Probiotics back.
By Patricia, Michigan
I first watched the video for Probiotic America. I identified with most of the symptoms to my surprise.
My most significant symptoms were gas, bloating, and especially constipation. These symptoms were greatly improved, but I realized that maybe I should try other probiotics (less cost), since I had never taken them before.
Now, months later, I am miserable. I have tried several other probiotics to no avail and I'm ready to go back to Probiotic America, Perfect Biotics, and the cost is worth it.
Bottom Line: Yes, I would recommend this to a friend
5 out of 5 people found this review helpful

Was feeling way too tired for only being twenty.
By Richard, Indiana
I am a single young man who works full time and just started college. My mother started to grow concern a few years back when she noticed how sluggish and tired I was for being so young, but yet ate a healthy diet for someone my age. After many hours of researching the endless sources on what one may think causes this sleepy effect, she was taken in by what scientifically made sense. After reading about what probiotics can do for the human body not only intrigued her, she also learned that you must do your research to gain the knowledge needed to make sure you are purchasing a high quality product and Proiotic America was the only one that passed her expectation. After using the product for almost three months I have noticed my energy levels have accelerated.
Bottom Line: Yes, I would recommend this to a friend
5 out of 6 people found this review helpful

Perfect Biotics
By Susan, NY
I'm on my second month of using Perfect Biotics and I have to say how pleased I am with how I'm feeling. I have superior energy and a complete positive upbeat attitude now. I noticed this change in myself since I started taking it. I also am not craving anything sweet like I used to. No more reaching for the cookies, chocolate and cake. I haven't lost any weight because I am exercising everyday, so I'm told muscle weighs more than fat. With all this being said, I sure hope I'll be able to continue using this product for the many years to come! Highly recommend it.
Bottom Line: Yes, I would recommend this to a friend
4 out of 4 people found this review helpful

Great product
By Christine, MA
I watched a video on Facebook of the Perfect Biotic and it made sense of why I felt so lousy. I ordered it and tried it. It was life changing. I did not feel bloated after eating, I did not crave sugars like soda and sweets. I generally felt better. I even had my husband watch the video and start taking it as well. We are both very happy with the product and can tell the difference when we do not take it. It has become part of our regular routine.
Bottom Line: Yes, I would recommend this to a friend
1 out of 1 people found this review helpful

Probiotics Solve Gut Issues
By Rhonda, Texas
This product has changed my husband's life. For years my husband has had serious digestive issues; issue that were never really properly diagnosed by any doctor. He was basically told he would have to live with his issues - extreme GERD, stomach pain, and diarrhea multiple times a day (every day). I am convinced he had such bad toxins in his digestive tract that had he never found this product he would have continued down the same path for the rest of his life.
After being on the probiotics for just three days he did experience a weekend of moderate discomfort due to the fact that his GI tract was emptying all the "crap" that had been in there for so long. Since then, he "goes" regularly with absolutely no diarrhea or discomfort. His GERD has improved and there is no stomach cramping whatsoever.
An added benefit he's noticed is a slight drop in weight and more energy. Even if these benefits were not a by product he still has had tremendous results and will continue with the product.
Bottom Line: Yes, I would recommend this to a friend
Ready to try Perfect Biotics For Yourself?
Thousands of people have completely transformed their digestive health with Perfect Biotics and I want you to too. If you have never tried a high quality probiotic before, I encourage you to take advantage of my special offer here and see for yourself exactly what a probiotic can do for you.
Click the button below to view our order options and I hope to hear your success story with all the others!
Dr. Cary Nelson